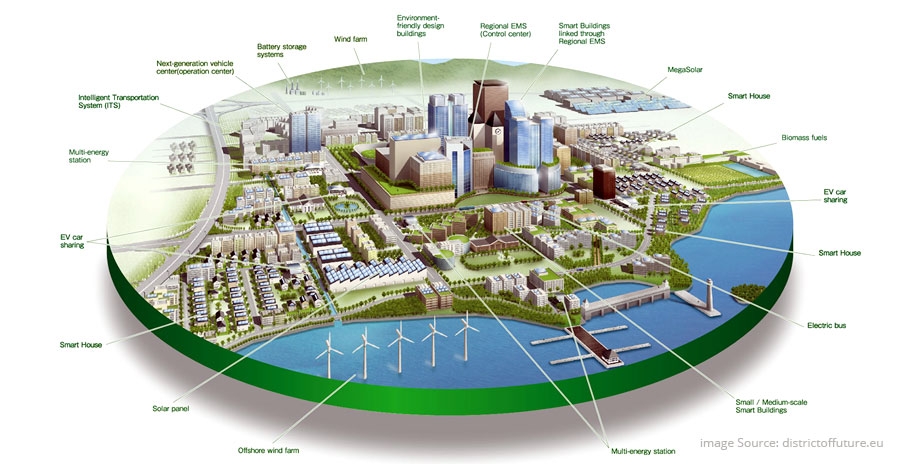 The much-awaited list of Smart cities has finally been made public, with about 98 cities pan-India making it to the coveted category that will ensure each of them enjoying the full benefits of the government's ambitious Smart Cities programme.

An estimated 12 crore people who reside in these cities will be the direct beneficiaries of the project, accounting for approx 35 percent of the country's total urban population, as outlined in the 2011 census.

Making the announcement recently, urban development minister M Venkaiah Naidu, further revealed that as per the profile of the selected cities in the list, 35 cities and smaller towns had a population of between one to five lakhs, while there were 21 cities in the list with a population ranging from 5-10 lakhs each.

The top half of the list includes about 25 cities with a population of between 10-25 lakhs, 5 cities with a population density of between 25-50 lakhs and four major cities - Chennai, Greater Hyderabad, Greater Mumbai and Ahmedabad - each with a population of over 50 lakhs.

Twenty four state capitals have also found a place in the list which also includes 24 business and industrial hubs, 5 port cities and 3 cities known for their education and healthcare facilities. Smaller cities with a population of less than a lakh like Silvassa, Diu, Kavaratti, Pasighat in Arunachal and Namchi in Sikkim have also been included in the coveted list of 98 cities.

Cities that did not meet the criteria and hence could not be nominated include Patna, Itanagar, Shimla, Bengaluru, Daman, Thiruvanathapuram, Puducherry, Gangtok and Kohima.

A state-wise look at the list shows some interesting inclusions. New Town, Bidhannagar, Durgapur, Haldia (WB), Chennai, Erode, Salem, Coimbatore, Madurai and Vellore (among 12 from TN), Greater Hyderabad, Greater Warangal (Telangana), Ludhiana, Jalandhar and Amritsar (Punjab), Bhubaneswar and Rourkela (Odisha), Ajmer, Jaipur, Udaipur and Kota (Rajasthan), Gandhinagar, Ahmedabad, Surat and Rajkot (among 6 cities from Gujarat), Ranchi (Jharkhand) and Dharamshala (HP), Biharsharif, Bhagalpur and Muzafarpur (Bihar), Karnal and Faridabad  (Haryana) Vishakhapatnam, Tirupati and Kakinada (AP) among others.

..And The Winners Are…
Here is the complete list of 98 Smart-Cities-in-the-making as released by the government:

Port Blair, Vishakhapatnam, Tirupati, Kakinada, Pasighat, Guwahati, Muzaffarpur, Bhagalpur, Biharsharif, Chandigarh, Raipur, Bilaspur, Diu, Silvassa, NDMC, Panaji, Gandhinagar, Ahmedabad, Surat, Vadodara, Rajkot, Dahod, Karnal, Faridabad, Dharamsala, Ranchi, Mangaluru, Belagavi, Shivamogga, Hubballi-Dharwad, Tumakuru, Davanegere, Kochi, Kavaratti, Bhopal, Indore, Jabalpur, Gwalior, Sagar, Satna, Ujjain.

Navi Mumbai, Nasik, Thane, Greater Mumbai, Amaravati, Solapur, Nagpur, Kalyan-Dombivalli, Aurangabad, Pune, Imphal, Shillong, Aizawl, Kohima, Bhubaneswar, Rourkela, Oulgaret, Ludhiana, Jalandhar, Amritsar, Jaipur, Udaipur, Kota, Ajmer, Namchi, Tiruchirapalli, Tirunelveli, Dindigul, Thanjavur, Tiruppur, Salem, Vellore, Coimbatore, Madurai, Erode, Thoothukudi, Chennai.

Greater Hyderabad, Greater Warangal, Agartala, Moradabad, Aligarh, Shaharanpur, Bareilly, Jhansi, Kanpur, Allahabad, Lucknow, Varanasi, Ghaziabad, Agra, Rampur, Dehradun, New Town Kolkata, Bidhannagar, Durgapur and Haldia.
---
---