ICICI Bank unveils 'Mortgage Guarantee' backed loans for affordable homes
Rajesh Kulkarni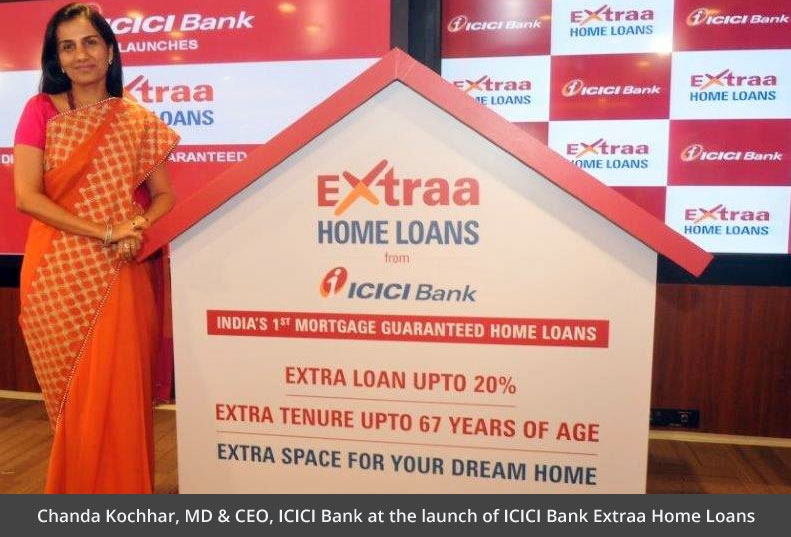 ICICI Bank, India's largest private sector bank, has announced the launch of the country's first 'Mortgage Guarantee' backed loans for retail customers aspiring to purchase their first homes in the affordable housing segment.

Christened 'ICICI Bank Extraa Home Loans', it allows a borrower to enhance the loan amount by up to 20% and also provides the option to extend the repayment period up to 67 years of age. 'ICICI Bank Extraa Home Loans' empowers the customers with the dual advantage of improved affordability and a longer repayment period.

The bank has launched this initiative in association with India Mortgage Guarantee Corporation (IMGC). IMGC is a joint venture between National Housing Bank (NHB), an RBI subsidiary which regulates Home Finance Companies in India; NYSE-listed Genworth Financial Inc., a Fortune 500 company; International Finance Corporation (IFC) and Asian Development Bank (ADB).

Speaking at the launch, Chanda Kochhar, MD & CEO, ICICI Bank said, "We foresee that a young population and rapid urbanization will lead to the emergence of enormous demand for affordable housing in Tier II and Tier III cities. This initiative will catalyse the growth of the Indian mortgage market by giving consumers improved affordability without any incremental risks for lenders.

"This launch marks a milestone as our housing industry will now join its global peers in offering solutions to customers aspiring to buy their first home in the affordable segment," she added. "I believe this unique proposition will help to fulfill the aspirations of millions of Indians of owning their dream home."

Amitava Mehra, CEO, IMGC added, "As the first 'Mortgage Guarantee' company in India, IMGC's endeavour is to work with lenders to provide mortgage guarantee cover and promote early home ownership. ICICI Bank is known for its continuous innovation to bring enhanced customer experience in the form of value add and ease of doing business. The arrangement reflects the confidence of the ICICI leadership in the MG product and the value it brings to their customers."

To begin with, the 'ICICI Bank Extraa Home Loans' will be available at the Bank's branches in Greater Mumbai, NCR, Bengaluru and Surat. Subsequently, it will be rolled out across the other cities in the country. The salaried as well as self-employed individuals seeking home loans of a maximum amount of INR 75 lakh are eligible for this loan on payment of a fee.

'ICICI Bank Extraa Home Loans' has three variants, which have been designed to address the needs of a wide range of customers:
a)For middle aged, salaried customers:This variant is suitable for salaried borrowers up to 48 years of age. While in a regular home loan, the borrowers will get a repayment schedule till their age of retirement, with this facility they can extend their loan tenure till 65 years of age.
b)For young, salaried customers:The salaried borrowers up to 37 years of age are eligible to avail a 30 year home loan with repayment tenure till 67 years of age.
c)Self-employed customers:There are many self-employed customers who earn higher income in some months of the year, given the seasonality of the business they are in. This variant will take the borrower's higher seasonal income into account while sanctioning the loan.

IMGC, the first 'Mortgage Guarantee' provider in the country, will cover 'First Loss' to ICICI Bank for such guaranteed loans. The 'ICICI Bank Extraa Home Loans' will adhere to the Loan-to-Value (LTV) norms as prescribed by the regulator.

The launch of 'ICICI Bank Extraa Home Loans' comes close on the heels of a slew of path-breaking services introduced by the banking major. These include the upgraded version of iMobile with over 100 services, fully automated 24X7 'Touch Banking' branches, Tab Banking and the country's first contactless debit and credit cards.

Recently, the Bank also launched 'icicibankpay', India's first service that allows money transfer over Twitter and 'Pockets', the country's first digital bank available on a mobile phone. The Bank also launched voice recognition services at its 24x7 call center.

---
---