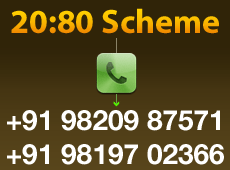 What is 20:80 (25:75) Scheme?

A 20:80 (or 25:75) is a pioneering financial scheme for purchasing a property. Under this scheme, the buyer of the property pays 20% of the cost of the property at the time of booking and the rest 80% during the possession of the property. For the 80% the buyer can get home loan approved from the bank. The bank will then disburse the loan amount to the builder or developer in the form of Equated Monthly Installments (EMI) after the possession of the property to the buyer. To be precise, one can buy a property by paying only 20% initially and rest 80% at the time of the possession.

The scheme was started with an intention to allow people living on rented to purchase under construction properties with the help of home loans and move into these houses once they were ready and start paying EMI's instead of rents.

This scheme has been highly admired by the investors who book the properties in the pre launch period and then sell it after getting the possession. For example if a apartment offer under this scheme is of 1200 sq. ft and costs Rs. 10,000 per sq. ft. at the time of the pre launch, the cost of the apartment will be Rs. 1,20,00,000 for which the buyer will have to pay 24 lakhs at the time of booking. If the apartment is ready in 2 years and the cost by then hikes up to say Rs. 15000 per sq. ft. and at this point of time the buyer sells the flat for Rs. 1,80,00,000 making a profit of around 50 Lakhs, making a profit of almost 2.5 times in 2 years.

Under this scheme everybody is at the wining end, where the developer is able to hike the sales, a bank is able to lend money and increase its profitability and assets and the buyer is able to purchase the property with a restricted cash flow.


New real estate projects currently available under the 20:80 or the 25:75 or 30:70 schemes in Mumbai are as follows:

1) Raj Infinia Malad By Rajesh Lifespaces

Raj Infinia is an excellent residential project coming up in Kanchpada, Malad. It is being developed by Rajesh Lifespaces, It consists of well planned residential living apartments with High profile security, metered piped gas, leak proof walls etc., with modern amenities like swimming pool, clubhouse, gym, high speed lifts and many more.

For more info click here


2) Runwal Elegante by Runwal Group

Runwal Elegante by the Runwal group is been developed at Andheri west near Infinity Mall, Lokhanwala etc. This project has 3,4 and 5 BHK apartments with ultra modern facilities like Bathroom and Spa and Health Centre, Children's Play area Infiniti Pool, Jogging Track and many more.

For more info click here


3) Hill View By Reliance Enterprise

Hill View is a luxury project developed by Reliance Enterprise at Chembur. The project consists of 2BHK and 3BHK luxury apartments. Each apartment is a perfect synergy between nature and science with the latest security system and luxurious amenities, ample car parking, Vastu Compliant, Club house, swimming pool gym and many more.


4) Vedic Heights by Keemaya Builder

Vedic Heights by Keemaya Buildes at Akurli Road, Kandivali East East is perfect blend of contemporary international designs, elegance and exclusivity. The extensive 2BHK flats have Living Room, Master Bedroom, Kitchen and Balcony.


5) Raj Altezza Mulund by Rajesh Lifespaces

Raj Altezza, a new project by Rajesh Lifespaces in Mulund offers splendor and comfort at its best. Spread on 7 acres of land this 28 floored building has 2 BHK and 3 BHK luxurious flats with an area ranging from 720sq. ft to 1005 sq.ft. Each flat is tailored keeping luxury as their main axiom.

Amenities like POP finish walls with luster paint in all the rooms, High speed passage lift, Grand entrance lobby, reception area and many more.

For more info click here


For Inquiry or booking of any project Call us at +91-9833670220, 9820987571, 9819702366


6) MayFair Greens By Mayfair Housing

MayFair Housing is coming up with a new project near Kandivali West named as MayFair. It has 192 residential apartments having 2BHK and 3BHK flats in the area of 1307 sq.ft to 1765 sq.ft. along with a grand entrance lobby, car lifts, soothing interiors, swimming pool, spacious kitchen and many more.


7) Hubtown Sunstone By Hubtown

Hubtown Builders the popular developer is coming up with a residential project Hubtown Sunstone overlooking MIG Club, Bandra East, Mumbai. This property offers 2 BHK having 1300 sq.ft to 1600 sq.ft area and 3 BHK having 2100 sq.ft to 2300 sq.ft area. It has modern amenities such as swimming pool, lobby, indoor games, intercom and many more.

For more info click here


8) Burberry By Nahar Amrit Shakti

Burberry and Bryony, two magnificent towers by Nahar's Amrit Shakti spread over 45000 sq. meters are been developed at Chandivali, Andheri East, Mumbai. Each floor has only 2 spacious apartments. The property offers 2 BHK spacious apartments with premium flooring, modular kitchen, designer bathrooms and servant's room and many more.

For more info click here


9) Romell Diva by The Romell Group

Romell Diva is a 23 storey with 2wings project by the Romell Grroup coming up at Malad West. This residential Project consists of a facilities and contemporary amenities like Vitrified tiles, Granite Platform with stainless sinks, Swimming pool, Fitness Center Health Club and many more.

For more info click here


10) Kalpataru Crest by Kalpataru Group

Kalpataru Crest a new project is developed by the Kalpataru Group. This Project is located at Bhandup West. It's a twin multi storey tower consisting spacious 2 and 3 BHK Apartments. This residential Project comprises of Clubhouse with gymnasium, Spa, basketball courts, multi-functional lounge, Swimming pool and many more.

11) Sky Forest by India Bulls

Sky Forest is a luxury project developed by India Bulls at Lower Parel. This project consists of private duplex and triplex villas that have been flawlessly designed by globally acclaimed experts. Special features include Spa with Jacuzzi, massage parlour, American style fine-dine restaurant, art gallery, Yacht charter, Private air charter, Travel & home assist services and many more.

For Inquiry or booking of any project Call us at +91-9833670220, 9820987571, 9819702366