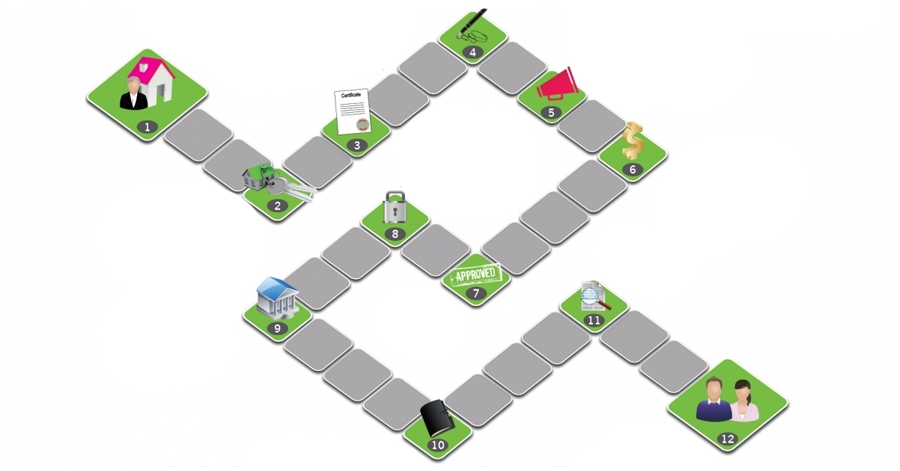 Buying a home consists of many parameters which needs to be satisfied through the availability of existing products in the market. Let me take you through the entire home buying process. This article will focus only on pre-sales process of Home Buying.

1. Recognition of a Need: The First time when buying a home clicks the person is when he/ she recognises the need to buy a home. Reasons can be many. Eg :

a. Upgrade to a Better Location and Lifestyle

b. Family Expansion

c. Recognising the Future needs of Children. Hence, having an extra personal bedroom for a growing Child Matters when you expect he/she to get into puberty. So the need to buy a bigger home arises.

d. Looking for a home closer to workplace to avoid the hustle and bustle of travelling to and fro from work place. This helps save time and give the same quality time to one's family.

e. Looking for a Transition/ Old Age Home. The need arises when one recognises that post retirement one would prefer to go back to his hometown away from the city and have a peaceful post retirement life. There are many developers who come out with the concept of Old Age homes catering to senior citizens. They also tie-up with various agencies who help people in their old age. Having a hospital or a doctor nearby plays a vital role. Also having a like minded community plays a crucial role for one to buy a home. Passing one's time without having much work can be stressful in old age.

f. Family spilt can be one of the reason's to buy a home. As now a days mostly people stay in Nuclear Families.

There could be possibly more reasons to buy a home other than the one's listed above.

2. The Second Thing after Recognition of the need to buy a home is having a location in Mind :
Location shortlisted depends on various factors like distance from School/ College, Work place, connectivity to various parts of the city, community/ quality of people present in a particular location, Premium Tag to a location, accessibility to Grocery Stores and social security.

3. The Third Thing that comes to the Mind of buyer is the availability of financial resources :

In many cities whose real estate has grown exponentially in the past few years will have higher prices for premium location or a unique project in a secondary location will still command a premium pricing. Its true that Budget for a home determines the location one will end up in especially in a place like Mumbai. If the location one is looking for is outside one's financial reach, than probably one would look for a second best location to settle in.
The other thing can be a person may just decide to drop off the need of buying a home for a few months to few years before making oneself Financially strong enough to buy it. The Financial Resources available and the Recognition of need go hand in hand in most of the cases to arrive at a decision to buy a home. One would take a call based on the financial strength whether a loan is required to get his dream home. If yes, probably he would get his home loan eligibility checked. Finally, the buyer would at a budget in mind to buy his dream home. Pre-Approved Home loans come in handy.
4. Searching Online :
Once the above 3 points are comfortably answered by the buyer himself, he would start searching online to get information on various projects in a particular location or projects in various locations matching his needs. At this stage a buyer is in shortlisting mode, where he would like a project based on his needs. This is the initial stage of the process of buying a home. He would do mix and match online. During this process of mix and match online a buyer would get in touch with Developers, Consultants and Brokers. At this stage none of the Developers or Brokers should give a sales pitch to a buyer as he is not in the mode of visiting properties.
A helping hand at such stage would be liked by the buyer. He would mostly end up buying with the same consultant or broker with whom he got in touch for the first time. The most important factor is that the Broker or Consultant should become the friend of the buyer and offer helping hand. A typical sales pitch will drive the buyer away. In times, where we are living today, there is no scarcity of options for a prospective buyer to change his plans and go with someone else to decide a home. At this stage the buyer will be able to take a call whether he would like to go for an ongoing project or resale or ready to move in home. The market dynamics will also play their role for the buyer to decide whether he should go for an ongoing project or ready to move in.
5. Visiting the Shortlisted Projects :
A buyer after shortlisting a good number of projects whether ongoing or resale would visit them. This is the stage where a buyer would like to decide and shortlist 2 to 3 options which would be closely matching his requirement. Generally, this is the longest phase in a buying process. Its extremely important for a Broker or Consultant to understand the stage of the buying process the customer is in.
This is where relationship development takes place for most of the Developers and Consultants. A Consultant would always work as per the requirement of the buyer. Probably the buyer would need a true honest suggestion on most of the things he is looking at to help him come down to a point of buying 1 out of the 3 options shortlisted.
6. The Negotiation Part :
Once the buyer has shortlisted the final option, he would like to go with probably there can be a series of meetings between the buyer and developer/ seller. Also between buyer along with consultant and developer/ seller. A consultant is able to add value in the 5 point mentioned above and in the negotiation part.
Finally, if everything falls in place the buyer ends up getting his dream home. Hence, equal importance should be given to pre-sales and post-sales service. If post-sales is extremely good, there are chances of having him as a repeated buyer in future. One can expect good referrals too.
Hence, I would like to conclude the blog by saying that understanding all the 6 stages in a buying process is of utmost importance for a salesperson or a broker or a consultant to help develop relationships. Business is a by-product of relationships developed. All the above stages takes few months to years to take shape. Hence, understanding the stages of buying a home is like a Journey to Buying a Home.
Tejas Jhaveri
An MBA in Marketing from Alliance University Bangalore, Tejas also has a 2 year hands on experience in Real Estate Residential Sales across affordable, luxury and premium segments. His stint with a leading Real Estate... read more
Add a Comment