Mira Road: Enjoy a high-quality lifestyle at down to earth prices
Rajesh Kulkarni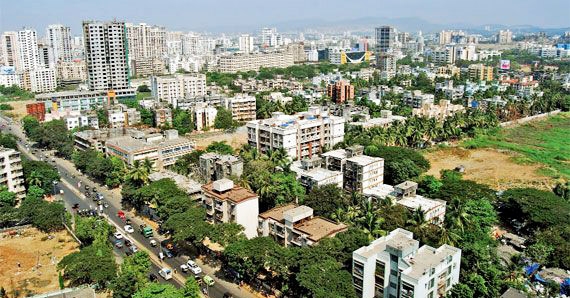 One of the few pockets close to Mumbai that still offers hope to price conscious buyers, Mira Road today has something for everyone - from budget flats to premium luxury homes, supported by improved infrastructure and excellent connectivity, writes Rajesh Kulkarni.

Located in the far north on the periphery of Mumbai city, Mira Road has come a long way from an under-developed suburb known for its many salt pans to one of the city's fastest developing areas known for its still affordable property rates, plethora of residential projects and easy connectivity to the Big Three namely, Mumbai, Thane and Navi Mumbai.

The rapid increase in the prices of Mumbai city's real estate has been the primary factor that has governed the rapid development of Mira Road. When realty prices began their climb in the late seventies, a large chunk of Mumbai's middle-class populations was forced to look for cheaper more affordable areas to set up home.

While many opted for peripheral locations like Virar, Vasai and Nalla Sopara, there were those who chose to settle down at Mira Road. By the early eighties the steady influx of people here caught the eye of several developers who began buying large chunks of agricultural land to develop townships. Subsequently, the Mira Bhayandar Municipal Council was set up on 12 June 1985 by integrating five Gram Panchayats, including the Mira Gram Panchayat, from which this suburb gets its name.

Charting the rise:
Given its strategic location just outside the Mumbai surburban limits, proximity to Mumbai city and Thane, easy connectivity via both road and cheap property prices, it wasn't long before the steady trickle of people moving here turned into a flood and the Mira-Bhayander belt began to witness rapid development from the late eighties onwards.

The Mira-Bhayandar region today occupies an area spread over approx 80 kms, with a marshy creek separating it from Mumbai city. To its north lies the Vasai creek, while the popular Sanjay Gandhi National Park is due east while the pristine Uttan coast falls in the west. Mira Road also shares many of the civic services provided to denizens of Mumbai city, including power from BSES and Reliance Energy, telecom services from MTNL and BEST bus services.

Mira Road also has its railway station which forms a part of the city's western railway suburban network. The suburb's independent civic agency - Mira Bhayandar Municipal Corporation - runs its own inter-city bus transport service namely Mira Bhayandar Municipal Transportation (MBMT) buses, which have played a major role in boosting the suburb's with places like Mumbai, Thane and parts of Navi Mumbai, thereby adding to its appeal as a popular residential destination for price-conscious buyers.

According to MBMC officials, Mira Road is still developing with more roads, subways, flyovers and drainage systems being added or being further improved. To further boost connectivity to neighboring cities like Mumbai, Thane and Navi Mumbai six flyovers have also been constructed along the arterial western express highway.

Project Portfolio:
With so much on offer, Mira Road has attracted the attention of several reputed developers including Kalpataru Group, RNA Corp, Kanakia, Hubtown, JP Infra, Sanghvi Group, Tanvi Builders, Arcade Developers and Jaycee Homes Ltd, who have several completed and ongoing projects here. Interestingly most of the realty development here has happened in its East, with the West still dominated by salt pans and mangroves.

A quick preview of some of the preferred ongoing residential projects here reveals names like Kakad Paradise, a project by the Kakad Realty group on Penkar Pada road. On offer here are 1 and 2BHK flats from 880-920 sq.ft priced from INR 56 lakhs onwards.

Hubtown Iris is the name of Hubtown Ltd's ongoing project here on Gaurav Enclave road. Scheduled from completion in December 2017, this project also offers flats in the configuration of 1 and 2BHK ranging from 685-945 sq.ft and priced from a reasonable INR 60 lakhs onwards.

The company has two other projects here that cater to buyers looking for a larger home in the premium range. Hubtown Redwood and Rosewood host apartments in the configuration of 2, 2.5 and 3BHK, ranging from 1,165-1,520 sq.ft and priced from INR 80 lakhs onwards.

Located close to Kanakia's ICSE school, this project comes fully loaded with a range of amenities that include: a garden, swimming pool, 24 hr power back-up, clubhouse, library, modern gymnasium, podium garden, retail shopping area and an in-house facility for indoor games.

Buyers on the lookout for similar projects can also checkout Darvesh Horizon, a premium project by the Darvesh group. Featuring spacious 2 and 3BHk apartments ranging from 700-1,600 sq.ft, this project is located at Pandurang wadi and is slated for completion at the end of next year.

There is no dearth of homes for budget conscious buyers either with projects like Jaycee Bhagtani Rio, which is located on St Jerome Church road here. A project by the well known Jaycee Homes group, Rio offers buyers a choice between 1 and 2BHK flats ranging from 600-875 sq.ft and priced from an affordable INR 36 lakhs onwards. The project is scheduled for completion around December 2017.

Future Trends:
With the Mira Bhayandar Municipal Corporation (MBMC) firming up plans to further upgrade the suburbs infrastructure by setting up a sewage treatment plant (under JNNURM), two more fire stations, upgrading the storm-water drain systems and a slum rehabilitation scheme, experts are optimistic about the continued growth of this suburb going forward.

"Mira Road has become a hub for middle-class and even higher-income buyers because of its affordable realty rates, improved social infrastructure and excellent connectivity to Mumbai," affirms Jayant Godbole, a local realty consultant dealing in flats and commercial shops. "It is one of the few places that can offer buyers the best of both worlds namely, spacious homes at a very reasonable price within a short commuting distance from Mumbai city."

With previously affordable suburbs like Kandivali and Borivali now beyond the reach of most price conscious buyers, Mira Road with its excellent mix of projects ranging from affordable homes to self-contained gated townships, supported by a network of essential facilities like schools, colleges, hospitals, malls and amusement parks offers a very good option for buyers not wanting to venture to far from the city.

As Godbole puts it succinctly, "It's an ideal location for home buyers who want to enjoy a premium lifestyle at a reasonable price in close proximity to the city."

---
---