Realty industry poised to make a strong comeback: Farshid Cooper
Rajesh Kulkarni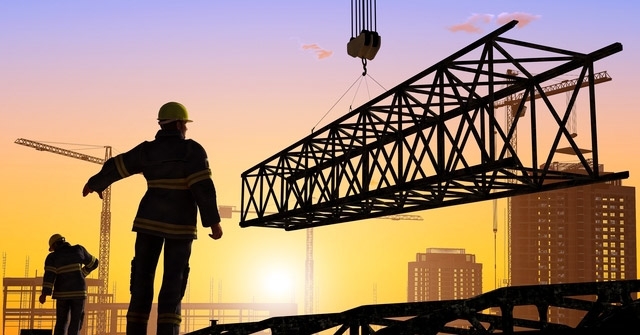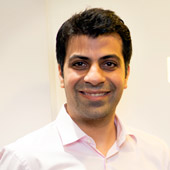 Green shoots of recovery are now visible in the property sector after a prolonged 5-year downturn. Farshid Cooper, Director at Spenta Corporation, a leading Mumbai-based developer, charts the positive indicators for the realty industry, as visible in the first six months of this year.

Improved affordability:
The downward trend in Real Estate Property Price Index (RPPI) indicates that affordability is going up and will be the key to recovery. Real estate prices have grown at 10 percent CAGR since 2011(60 percent increase), almost in line with the growth in income levels. CPI adjusted real estate prices are at their lowest levels since 2013, which indicates improved affordability.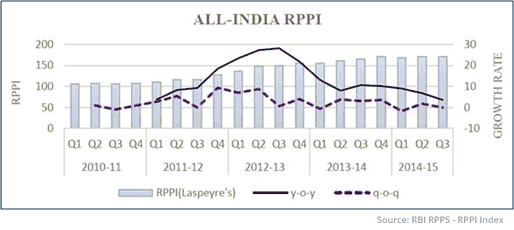 Further interest rates have dropped by 90bps and are expected to decline by an additional 50-100bps by the year end, as banks start transmitting the recent rate cuts to borrowers. Developers like us too have created smaller housing units to address the growing demand.

In fact, the trend prevailing in the market at the moment is for compact apartments. These tend to be easy on the pocket as per square foot rates in the city are usually high. They appeal to a larger market segment and buyers often appreciate the effort made to plan a compact home without any wastage of space.

Also the residential demand in Mumbai seems to have picked up sharply as reflected in the reported pre-sales of developers who have announced new projects in the market recently unlike the NCR residential market where recovery is expected only by Q4 of this year. The credit environment in the market has also improved, with bank lending to the sector growing at a better rate relative to history.


Positive public sentiment:
A real estate purchase is one of the most important decisions for a family and hence is never rushed into. Earlier buyers refrained from purchases due to the lack of positive sentiment caused by the high level of insecurity and prices being stagnant. The key driver of the turn-around is the positive sentiment felt by the masses. As prices show the first signs of improvement, consumers who are on the fence will jump in and make new property purchases.

This is expected to create higher demand that will compensate for the slowdown over the last 5 years. There is significant level of pent up demand built up in the system especially given the fact that cities like Mumbai and NCR are down more than 50-70 percent over the last 5 years.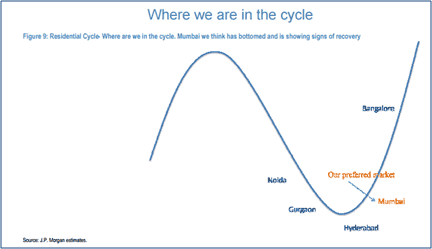 This phenomenon is expected to play out at the earliest in Mumbai, which has been among the worst hit by the slowdown in property sales. Already the residential property in the city is showing a strong cyclical upside as per trends and discussions in the market.

Real estate in Bengaluru is expected to improve this year as developers start moving into the mid income housing segment. The NCR real estate market is expected to recover only in FY16, as it is going through a phase of over-supply.

Lower EMIs, higher demand: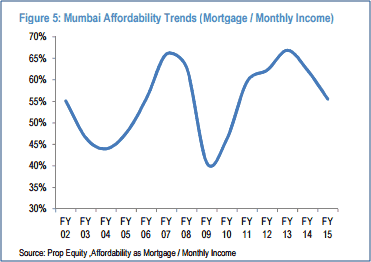 Reduction in home loan rates may aid demand especially for mid-income assets. Interest rates have gone down by approx 100-120bps over the last year and the recent rate cut has helped provide the much needed cheer for home buyers.

Banks have also introduced fixed rate products at 10.2-10.4 percent, providing fixed rate loans for 2-10 years. The segment remains competitive as most financial lenders are looking to build a lower risk debt portfolio.


No Bubble in Property Prices:
The Reserve Bank of India (RBI) released a paper on - Trends in residential pricing - using the housing loan data from 35 financial institutions across 13 cities. The key takeaway and the most positive news is that there is no bubble in property prices, which increases the probability of pro cyclical measures for the real estate sector, especially in the light of the sharp slowdown in volumes over the last 3 years across major metros.

Commercial real estate on the upswing:
An interesting sub trend can be witnessed in the market for commercial space which is now entering an extended bull run with rentals rebounding while capital rates continue to head south. It is on a path of a cyclical recovery and as demand increases, rentals will go up given the increased tightness in the market. If pending taxation issues on REITs are resolved (DDT / Capital gains on direct transfer), it can potentially become a large opportunity for both public / private investors. Hence, sector credit metrics are expected to improve.

Higher land investments:
Land sales in the realty market have started to increase reflecting higher confidence levels among buyers. Several high value deals have been concluded in Mumbai over the last few months. Developers like us are increasingly gaining confidence on executing high value buyouts from peers, who in some cases are in financial distress. Valuations on most of the land transactions are on market rates and there is a marked preference for clear titled properties.

Green Buildings:
Going beyond just talk and superficial changes, green buildings are now slowly becoming a reality. Some buildings are greener than others, but it often comes down to planning restrictions. We ensure to plan for as much open space and green area as possible. ​ It is in the interest of every developer and customer to demand a building that is green and environment-friendly in every aspect.

For example our residential project AltaVista in Chembur, will have almost 2 acres of green area with over 600 trees planned. Outside of creating the infrastructure for a sewerage treatment plant and rain water harvesting and using only LED lights, we have also used bricks that are made from recycled waste of other industries and improved insulation thereby reducing the dependence on energy-guzzling air-conditioners.

---
---