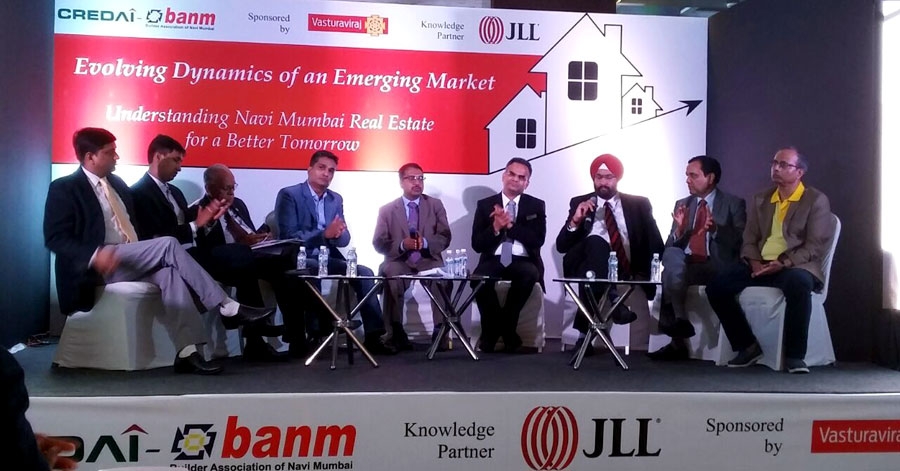 Key challenges facing the Navi Mumbai realty market and the correct approach to overcome these hurdles were the main focus at a recent, well-attended industry event organized jointly by the Builders Association of Navi Mumbai and CREDAI, the apex body for private developers.

The prevailing market scenario of Navi Mumbai's real estate industry and measures needed to resolve the major challenges and problems faced by it in tandem with all the industry stakeholders were some of the key points that were discussed at length at a recent industry event organized by the Builders Association of Navi Mumbai (BANM), the Confederation of Real Estate Developers of India (CREDAI), the apex body for private realty developers in the country and JLL, the knowledge partner for the event.

One of the highlights of this event was a high-level panel discussion moderated by Joy Sanyal, national director – JLL India, that shared the insights and industry perspectives of several leading names from the realty fraternity including: Devang Trivedi, president, BANM, V Suresh, director, Hiranandani Projects, Ashwinder Raj Singh, CEO, residential services, JLL India, Mahesh Mudda, general secretary, Builders Association of India (BAI) and CEO, NCCCL, Subrata Bandopadhyay, CEO, L&T Seawoods Pvt. Ltd, Tapas Das, Head (Property and Administrative Services), L'Oreal India, Ramesh Nair, COO (Operations & International Director), JLL India and Sanjay Kumath, Senior VP (Corporate Strategy), Housing.com.

The session began with Devang Trivedi, president, BANM opining that developers in the city needed to take an informed approach to their work and stop taking major decisions based on their instincts alone.

He stressed that there was a strong need to prepare in advance for the hard challenges that lay ahead for the realty industry. He also noted that inspite of promising good returns to investors, developers had been unsuccessful in reducing property prices in the existing market scenario.

Also sharing his insights at the event was JLL's national head (research and real estate intelligence services) Ashutosh Limaye who said that Navi Mumbai was well-placed to attract foreign investment by highlighting its many advantages like its well-developed infrastructure facilities, the presence of several reputed educational institutions and more importantly its close proximity to Mumbai, the financial capital of the country.

Citing the examples of places like Hinjewadi (Pune) and Whitefield (Bengaluru) which had successfully managed to position themselves as IT hubs and attract a huge volume of corporate majors, creating a strong employment zone, Limaye stressed that Navi Mumbai could do well to try and learn from their experience and adopt a similar strategy.

He warned however that there was a need to first align the ticket sizes of available property options and Navi Mumbai's project portfolio to consumer needs before the city could tap into the full extent of its vast potential.

Despite its vast potential, Navi Mumbai has been unable to realize its full potential as a promising real estate destination located right next to Mumbai. While a majority of developers have focused only on residential projects with mixed results, the city's enormous commercial potential remains largely untapped inspite of its strategic location and infrastructural progress.

While there is no dearth of demand for premium Grade A office space in the city, the over-dependence on residential projects has ensured a perennial shortage of good commercial options. Not surprisingly the city has witnessed a huge increase, estimated to be approx 52 per cent, in office rentals since the previous low witnessed in the second quarter of 2009.

Lamenting the fact that no corporate was currently interested to get into commercial space in Navi Mumbai, Ramesh Nair, COO (Operations) & international director, JLL said that this reflected a strong underlying need for the city to adopt the right branding strategy and put pressure on the government to create employment opportunities and corporate parks. "A professional approach, branding with an investor-focus and strategic alliances along with corporate governance should be top priority," he stressed.

In the existing market scenario, office leasing to the growing IT sector in Navi Mumbai stands at an under-par 40 percent of the total demand for leasing. According to industry experts one of the primary reasons for this low off take has been the insistence on green, energy efficient and modern commercial buildings by foreign companies looking for space and the inability of developers in the Navi Mumbai region to cater to this customised demand.

Moreover even in terms of the residential segment, developers in Navi Mumbai were solely dependent on catering to demand generated from the neighboring city of Mumbai and had been unable to leverage the satellite city's potential to non-Mumbai buyers.

Sharing his view on the occasion, Ashwinder Raj Singh, CEO, residential services, JLL India acknowledged that developers in the region now had a great opportunity to unleash the full realty potential of Navi Mumbai. "One of the key areas that Navi Mumbai should focus on is to bring out its competitive advantage across all the major cities in India and abroad," he said.

"There needs to be a concerted push to bring more leading Indian and global corporates to this beautiful and well-planned geography. Navi Mumbai's developers should get together and build a professional body with a CEO, and lay down a marketing plan to build its image even further," he added, citing the example of Gurgaon which has done it extremely well in the last three decades.
---
---