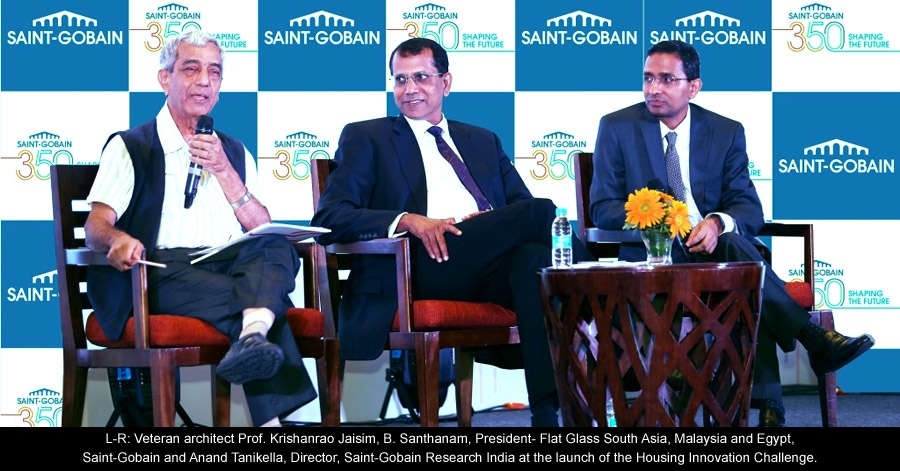 On the eve of World Environment Day, Saint-Gobain India, a leading player in the sustainable building materials segment has announced the launch of its - Housing Innovation Challenge - as part of its historic global 350 year celebrations.

The key highlight of this challenge is an open invitation to urban development innovators and thinkers to identify problem areas in housing and come up with innovative solutions to resolve them.
A dual format competition, the Housing Innovation Challenge will provide a common platform for both professionals and the members of the general public. In the professional space, architects, designers, planners and engineers are invited to submit entries on possible areas of intervention in the categories of Sustainable Housing and Housing for Smart Cities.

The competition also urges members of the general public to voice their problems and contribute to the competition by enlisting any housing issues that they may have faced or are currently facing. The participating professionals could work on their entries based on the concerns raised by the public or choose to submit their individual entries based entirely on their own ideas.

Speaking at the launch of the challenge, B. Santhanam, President- Flat Glass South Asia, Malaysia and Egypt, Saint-Gobain said, "Over the last 350 years, Saint-Gobain has been impacted by a changing world and in its own way has also helped to shape that world – through constant R&D, technology and innovation and Saint-Gobain's active presence in India has only strengthened this fact. Housing is a necessity in a developing country like India.

"India's cities are urbanizing at an extremely rapid pace and as the strain on cities grows, there is an adverse impact on the environment as well. The purpose of this challenge is to empower the recipients to become agents of change in society and contribute to this very necessity. On Saint-Gobain's 350th anniversary, we aim to strengthen this commitment even further by becoming the reference for sustainable habitat in India," he added.

Entries for the challenge will be invited from the day of the launch, i.e., from June 4, 2015 till September 5th. Participants and enthusiasts can also submit their projects and views online on www.saint-gobain.co.in/housinginnovationchallenge.

The best ideas and proposals will be selected by an eminent jury panel comprising of Prof. Krishnarao Jaisim, Ar. Brinda Somaya, & Ar. Rahul Kadri who will lead the winning entries into implementation phase with the help of the team at Saint-Gobain Research India (SGRI).

In each category under the Professional section, the winner of the challenge will be awarded a sum of INR 2, 50,000. The first and second runners up under each of the categories will be rewarded with INR 1, 50,000 and INR 1, 00,000 respectively.

In the General section, 10 best innovative ideas will be awarded with INR 25,000 each. These awards will be announced during October 2015 and presented during Saint-Gobain's 350 year celebrations in November 2015, apart from the possibility of SGRI working on implementing their ideas to fruition.

Indian Green Building Council (IGBC) is associating with the competition as the Knowledge Partner and Smart Cities Council India is the Supporting Partner.
---
---